Adam Russo

Fan Page

This is the safe-for-work version of this page. If you want to see more, check out Adam Russo's profile on #BBBH (NSFW).

Also known as: Adam Russo

Adam Russo is a bareback versatile porn star who's done 434 porn scenes and had sex with 260 different people on video (that we know of).
Twitter Handle: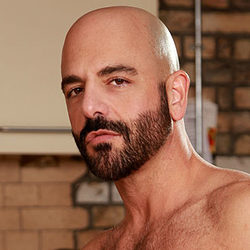 Stats/Details:
These stats are based on the data we have available to us. Our database is constantly growing, so in most cases these numbers are underestimates – the real numbers are higher.
Date Of Birth:

1967-08-08

(current age: 56)
Sites:

Raw Fuck Club

(353 scenes),

Raw Joxxx

(7 scenes),

Raw & Rough

(6 scenes),

Breed Me Raw

(3 scenes),

Hot Barebacking

(2 scenes),

Butch Dixon

(2 scenes),

The Gay Office

(2 scenes),

Hot Dads Hot Lads

(2 scenes),

Dudes Raw

(1 scene),

Cazzo Club

(1 scene),

Jake Cruise

(1 scene),

Dominic Pacifico

(1 scene),

Cocksure Men

(1 scene),

Dark Alley Dark Room

(1 scene),

Bareback That Hole

(1 scene),

Bound Gods

(1 scene)
Scenes: 434

92 known anal scenes

Total top 55 times (60%)
Total bottom 22 times (24%)
Versatile 15 times (16%)
98.4% of his fuck scenes were bareback

12 known fisting scenes
6 known piss/watersports scenes
5 known BDSM scenes

Has Had Sex With 260 People:

Jackson Reed

,

Macho Grant

,

Jack Dyer

,

Romeo Davis XL

,

Jackson Hood

,

Dillon Diaz

,

Nic Sahara

,

Lucas Leon

,

Cazden Hunter

,

Teddy Bear

,

Sir Jet

,

Josh Moore

,

Brendan Patrick

,

Zak Bishop

,

Adrian Hart

,

Casey Everett

,

Mike Gaite

,

Brock Banks

,

Cain Marko

,

Damaged Bottom

,

Joel Someone

,

Lucas Deen

,

Franco Nunez

,

Archer Croft

,

Dominik Rider

,

Dominic Pacifico

,

John Magnum

,

RJ Parker

,

Jake Wetmore

,

Nick Capra

,

Champ Robinson

,

Seth Miller

,

Chase Coxxx

,

Saxon West

,

Alexander Freitas

,

Damian Dragon

,

Jake Steel

,

Jake Mitchell

,

Chad Brock

,

Tate Ryder

,

Draven Torres

,

Brad Kalvo

,

Blake Daniels

,

Blue Bailey

,

Brenn Wyson

,

Kyle Braun

,

Ken Byker

,

Dylan Hyde

,

Darius Soli

,

Armond Rizzo

,

Dayton O'Connor

,

Shay Michaels

,

Brian Bonds

,

Drew Sebastian

,

Adam Ramzi

,

Jeremy Stevens

,

Dirk Caber

,

Rogue Status

,

Dylan Saunders

,

Logan Stevens

,

Adam Archuleta

,

Gabriel Cross

,

Jon Shield

,

Tommy DeLuca

,

Ricky Roman

,

Ty Roderick

,

Kirk Cummings

,

Tony Thorn

,

Jay Brix

,

Adam Dacre

,

Cutler X

,

Rocco Steele

,

Dean Brody

,

Kevin Tyler

,

Dallas Parker

,

Joseph Rough

,

Trelino (Dick Wadd)

,

Seth Fisher

,

Parker (Dick Wadd)

,

Boy Fillups

,

Michael Phoenix

,

Kyle Ferris

,

Rob Skelton

,

Dylan Strokes

,

Luke Harding

,

Travis Saint

,

Liam Vidra

,

Scott Riley

,

Dallas Steele

,

Ray Diesel

,

Hans Berlin

,

Aaron Burke

,

Asher Devin

,

Jake Morgan

,

Carter Hudson

,

Jack Andy

,

Mason Lear

,

Tex Davidson

,

Damon Andros

,

Jai Sean

,

Cesar Xes

,

Poppers (Dick Wadd)

,

Trelino Shay

,

Michaels (Dick Wadd)

,

Riley Mitchel

,

Sean Harding

,

Wade Wolfgar

,

Nate Grimes

,

Zario Travezz

,

Jaxx Thanatos

,

Julian Torres (FFurryStud)

,

Ryan Carter

,

Digger

,

Stevie Trixx

,

Avatar Akyia

,

Jacen Zhu

,

Marco Napoli

,

Drew Dixon

,

Michael Boston

,

Dakota Payne

,

Charles Gray

,

Trelino (Jake Cruise Media)

,

Riley Landon

,

Dev Tyler

,

Cole Green

,

Beaux Matthews

,

Jack Vidra

,

Donnie Argento

,

Daryl Richter

,

Liam Knox

,

Jake Nicola

,

Trip Richards

,

Logan Six

,

Pup Titan

,

Jason Gauge

,

Drake Masters

,

Tony XOT

,

Judas King

,

Chris Damned

,

Zac Snow

,

BigBatDick (RFC)

,

Kinky Viktor

,

Zeno Rey

,

August Alexander

,

Masked Jock

,

Justin Yurmouth

,

Bo Derek

,

Leo Rex

,

Kurt Klein

,

Zoltron X

,

CJ Bearded Brit

,

Chri$tian (RFC)

,

Casanova (RFC)

,

JayXAustin (RFC)

,

Brogan (RFC)

,

Eager Bottom

,

Trevor Wallon

,

Derrick Nova

,

Porfi Maximus

,

The Real Daddy

,

Jake Lawrence

,

Isaac (RFC)

,

Rocky Maximo

,

Trophy Blond

,

Nickoles Alexander

,

Amadeus (RFC)

,

NickLAXXX (RFC)

,

Lance Charger

,

Matthew Figata

,

Santino Cruz

,

DWinters (RFC)

,

Alexander Kristov

,

Sebastian Calvin

,

Matt Bold

,

Jr Romero

,

Daddy Dave

,

Italian Otter

,

LA Dave

,

Barret Dean

,

Aaron Chu

,

Luke Truong

,

Dean (RFC)

,

Masked Bottom

,

Morgxn Thicke

,

Badkid (RFC)

,

Finn Daniels

,

Dan Saxxon

,

Sully (RFC)

,

Jay eLL

,

Oliver Hunt

,

Cole Connor

,

Notorious Big

,

Cody Moore

,

Max Lorde

,

Greg Hollywood

,

Ian Sterling

,

Nick LA

,

Maxe Lorde

,

Tommy Bluezz

,

Jkab Ethan Dale

,

Daddy Riley

,

Beau Butler

,

Cheeky Nikolai

,

Trent Marx

,

Eddie Burke

,

Jake waters

,

Collin and Josh

,

Chad (Dark Alley)

,

Shae Reynolds

,

Migs Mixed

,

Billy Bones

,

Ian Holms

,

Candy Cakez

,

Sebastian Sky

,

Zaddy Tony

,

Bobby Ryker

,

Jax Phoenix

,

JP Red

,

Jarrod Wagner

,

Ryan (Dark Alley)

,

Steve Q

,

Mack Austin

,

Alexandre Mount

,

Rhys Dylan

,

Jordan Jameson

,

That Switch

,

Ethan Sinns

,

Dillon Roman

,

Devyn Pauly

,

Tatted Muscle Stud BF

,

Jak Stanz

,

Lucca Mazzi

,

Jarrod (Dark Alley)

,

fersmith (Dark Alley)

,

Tatted Muscle Stud

,

MagicMike Hung

,

Topher Cris

,

Miguel (Black Breeders)

,

Desi Bottom

,

Muscle Jock Micro Cock

,

Kent Black

,

Justin Eros

,

Zen Goken

,

Angels Unleashed - Ricky

,

Angels Unleashed - Diego

,

Jarrod Webby

,

COMPACTMUSCLES (Dark Alley)

,

Xtian Mingle

,

Han Core

,

Cole McKenna

,

boy Paul

,

Peaks and Cheeks

,

Angels Unleashed - Ricky Hancock

,

Angels Unleashed - Diego Hancock

,

MyFaveBttm (Dark Alley)

,

Pup Mephisto

,

Duke Hunt

,

Cole (Black Breeders)

,

kindagingerkane (Dark Alley)

,

Enzo Angelo



Bottoming Stats:

Has been fucked by 34 guys:

Aaron Burke

,

Adam Dacre

,

Adrian Hart

,

August Alexander

,

Blue Bailey

,

Brenn Wyson

,

Brock Banks

,

Champ Robinson

,

Charles Gray

,

Chase Coxxx

,

CJ Bearded Brit

,

Cole Connor

,

Cutler X

,

Dan Saxxon

,

Darius Soli

,

Dayton O'Connor

,

Dean Brody

,

Dylan Strokes

,

Ian Sterling

,

Jack Andy

,

Jordan Jameson

,

Kyle Braun

,

Lance Charger

,

Masked Jock

,

Nick Capra

,

Rocco Steele

,

Rocky Maximo

,

Romeo Davis XL

,

Santino Cruz

,

Shay Michaels

,

Tommy DeLuca

,

Tony Thorn

,

Trevor Wallon

,

Zario Travezz

He's been barebacked by 88% of the guys who've fucked him
Has been the sub in 1 BDSM video
Has been a piss bottom in 1 video

Topping Stats:

Has fucked 55 people:

Aaron Burke

,

Aaron Chu

,

Adrian Hart

,

Armond Rizzo

,

August Alexander

,

Blue Bailey

,

Brian Bonds

,

Cesar Xes

,

Cole Connor

,

Dallas Parker

,

Dan Saxxon

,

Dean (RFC)

,

Dean Brody

,

Dev Tyler

,

Dominic Pacifico

,

Drake Masters

,

Draven Torres

,

Drew Dixon

,

Dylan Strokes

,

fersmith (Dark Alley)

,

Ian Sterling

,

Jack Andy

,

Jackson Reed

,

Jake Nicola

,

Jake waters

,

Jay Brix

,

Jayson Park

,

Jeremy Stevens

,

Jon Shield

,

Jordan Jameson

,

Joseph Rough

,

Josh Moore

,

Kyle Braun

,

Kyle Ferris

,

Lance Charger

,

Logan Stevens

,

Luke Harding

,

Luke Truong

,

Nate Grimes

,

Nick Capra

,

NickLAXXX (RFC)

,

Parker (Dick Wadd)

,

Porfi Maximus

,

Rob Skelton

,

Saxon West

,

Scott Riley

,

Seth Miller

,

Shae Reynolds

,

Shay Michaels

,

Tate Ryder

,

Travis Saint

,

Trelino (Dick Wadd)

,

Trevor Wallon

,

Trip Richards

,

Zario Travezz

He's barebacked 89% of the people he's fucked
Has been a piss top in 1 video
Has been a fisting top in 2 videos