Trip Richards

Fan Page

This is the safe-for-work version of this page. If you want to see more, check out Trip Richards' profile on #BBBH (NSFW).

Trip Richards is a bareback trans masculine porn star who's done 169 porn scenes and had sex with 102 different people on video (that we know of).
Twitter Handle: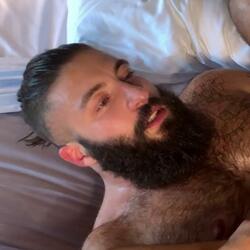 Stats/Details:
These stats are based on the data we have available to us. Our database is constantly growing, so in most cases these numbers are underestimates – the real numbers are higher.
Sites:

Raw Fuck Club

(136 scenes),

Black Breeders

(33 scenes)
Scenes: 169

34 known anal scenes

Total bottom 28 times (82%)
Versatile 6 times (18%)
100% of his fuck scenes were bareback

5 known fisting scenes
1 known solo scene

Has Had Sex With 102 People:

Wolf Hudson

,

JD Daniels

,

BeardedBearMan (RFC)

,

Micah Martinez

,

Rick Kelson

,

Dillon Diaz

,

Adrian Hart

,

Mike Gaite

,

Cain Marko

,

Joel Someone

,

Jason Derek

,

Tony Zucchero

,

Archer Croft

,

Marc Angelo

,

Ray Dalton

,

Damian Dragon

,

Leo Forte

,

Brian Bonds

,

Boomer Banks

,

Logan Stevens

,

Adam Russo

,

Thor Johnson

,

Rocco Steele

,

Dallas Steele

,

Ray Diesel

,

Mason Lear

,

Damon Andros

,

Jack Dixon

,

Wade Wolfgar

,

HungerFF

,

Julian Torres (FFurryStud)

,

Ryan Carter

,

Digger

,

Silver Steele

,

Avatar Akyia

,

Ari Koyote

,

Lance Navarro

,

Eric Smith

,

Fedz100 (RFC)

,

Alex Tikas

,

Jack Vidra

,

Hollywood Pigs

,

BareDuo (RFC)

,

Jon Darra

,

August Alexander

,

Masked Jock

,

Michael Reid

,

Zaddy XXX

,

Dante Kieran

,

Otto Samson

,

Oscar Bear

,

Clint Dixon

,

Lance Charger

,

Jeremy Feist

,

Mason Hunt

,

T WillCox

,

Peter Hooke

,

Killian Knox

,

Daisy Taylor

,

Liam Archer

,

Morgxn Thicke

,

Bucky Wright

,

Andrew Oak

,

Ian Sterling

,

Bull Interrupted

,

Hunter Triad

,

Just Dandy

,

Jake waters

,

Caleb Vazquez

,

Chad Hammer

,

Lobo (Dark Alley)

,

Nicholai Archer

,

TheBearDad (Dark Alley)

,

Gryphon Ashe

,

Trent Ryder

,

Jordan Jameson

,

Dilfy Drew

,

Jackson Fader

,

Davin Addison

,

Rob Montana

,

MagicMike Hung

,

Xander Fiero

,

RRbears (Dark Alley)

,

Brock the Jock

,

Ravi (Dark Alley)

,

Zaddy Big D

,

Jordi Massive

,

Logan Stanley

,

Rodrigo Amor

,

LATINRELAX (Dark Alley)

,

Prince Dommy

,

Joshie J

,

Cory Jacobs

,

Johnny Castro

,

Furrybikerxxx (Dark Alley)

,

Robin Pierce

,

Callum Colbey

,

Tyler Beefinprogress

,

Luka Phoenix

,

Hatler (Dark Alley)

,

Tatted Fag

,

Brad Pardee



Bottoming Stats:

Has been fucked by 24 guys:

Adam Russo

,

Adrian Hart

,

August Alexander

,

BeardedBearMan (RFC)

,

Boomer Banks

,

Brian Bonds

,

Bucky Wright

,

Dillon Diaz

,

Eric Smith

,

Fedz100 (RFC)

,

Ian Sterling

,

Jake waters

,

Joel Someone

,

Julian Torres (FFurryStud)

,

Killian Knox

,

Lance Charger

,

Leo Forte

,

Mason Hunt

,

Mason Lear

,

Micah Martinez

,

Morgxn Thicke

,

Nicholai Archer

,

Ryan Carter

,

Wolf Hudson

He's been barebacked by 71% of the guys who've fucked him

Topping Stats: