Jack Andy

Fan Page

This is the safe-for-work version of this page. If you want to see more, check out Jack Andy's profile on #BBBH (NSFW).

Jack Andy is a bareback versatile porn star who's done 99 porn scenes and had sex with 94 different people on video (that we know of).
Twitter Handle: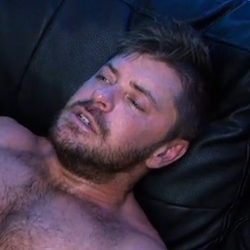 Stats/Details:
These stats are based on the data we have available to us. Our database is constantly growing, so in most cases these numbers are underestimates – the real numbers are higher.
Sites:

Raw Fuck Club

(81 scenes),

Raw Fuck Club

(14 scenes),

Raw Fuck Club

(2 scenes),

Raw Fuck Club

(2 scenes),

ChaosMen

(2 scenes),

Raw Fuck Club

(1 scene)
Scenes: 99

13 known anal scenes

Total top 8 times (62%)
Total bottom 1 time (8%)
Versatile 4 times (31%)
100% of his fuck scenes were bareback

1 known fisting scene

Has Had Sex With 94 People:

AJ Marshall

,

Jackson Reed

,

Dexx (Dark Alley)

,

Dillon Diaz

,

Cazden Hunter

,

Teddy Bear

,

Sir Jet

,

Adrian Hart

,

Mike Gaite

,

Brock Banks

,

Joel Someone

,

Dominik Rider

,

Vic Rocco

,

Ray Dalton

,

Saxon West

,

Fabio Duran

,

Justin Case

,

Jessie Colter

,

Brian Bonds

,

Sean Duran

,

Drew Sebastian

,

Adam Russo

,

Ty Roderick

,

Jake Marshall

,

Rikk York

,

Dylan Strokes

,

Jon Galt

,

Scott DeMarco

,

Ray Diesel

,

Jake Morgan

,

Teddy Bryce

,

Jace Chambers

,

Osiris Blade

,

Mason Lear

,

Jai Sean

,

Cesar Xes

,

Aiden Hart

,

Seth Santoro

,

Declan Moore

,

Riley Mitchel

,

Clay Towers

,

Phoenix Fellington

,

Sebastian Velmont

,

Sean Harding

,

Alessio Vega

,

Zario Travezz

,

D Arclyte

,

Bentley Michael

,

Julian Torres (FFurryStud)

,

Ryan Carter

,

Digger

,

Silver Steele

,

Jacob Conar

,

Aaron Trainer

,

Jacen Zhu

,

Drew Dixon

,

Aiden Ward

,

Michael Boston

,

Derek Cline

,

Riley Landon

,

Cole Green

,

Jackson Radiz

,

Chris Damned

,

Zac Snow

,

Zeno Rey

,

August Alexander

,

Brogan (RFC)

,

Trevor Wallon

,

Derrick Nova

,

Otto Samson

,

Porfi Maximus

,

Isaac (RFC)

,

Trophy Blond

,

Nickoles Alexander

,

NickLAXXX (RFC)

,

Lance Charger

,

Santino Cruz

,

Matt Bold

,

Jr Romero

,

Aaron Chu

,

Luke Truong

,

Dean (RFC)

,

Morgxn Thicke

,

Badkid (RFC)

,

Sully (RFC)

,

Cole Connor

,

Notorious Big

,

Cody Moore

,

Max Lorde

,

Ian Sterling

,

Jkab Ethan Dale

,

Beau Butler

,

Cheeky Nikolai

,

Bryce Hart



Bottoming Stats:
Topping Stats:

Has fucked 10 people:

Aaron Chu

,

Adam Russo

,

August Alexander

,

Brian Bonds

,

Cesar Xes

,

Dean (RFC)

,

Derek Cline

,

Ian Sterling

,

Luke Truong

,

NickLAXXX (RFC)

,

Trevor Wallon

He's barebacked 100% of the people he's fucked