Shay Michaels

Fan Page

This is the safe-for-work version of this page. If you want to see more, check out Shay Michaels' profile on Spunk Bud (NSFW).

Shay Michaels is a versatile top who's done 71 porn scenes and had sex with 71 different people on video (that we know of).
Twitter Handle: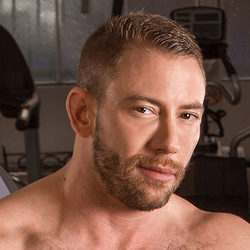 Stats/Details:
These stats are based on the data we have available to us. Our database is constantly growing, so in most cases these numbers are underestimates – the real numbers are higher.
Sites:

Raw & Rough

(25 scenes),

Raw Fuck Club

(16 scenes),

Raw Joxxx

(12 scenes),

Cocksure Men

(6 scenes),

Hot Barebacking

(2 scenes),

Jake Cruise

(2 scenes),

Breed Me Raw

(2 scenes),

Hot Dads Hot Lads

(2 scenes),

Titan Men

(1 scene),

Drill My Hole

(1 scene),

Hot House

(1 scene),

Fetish Force

(1 scene)
Scenes: 71

30 known anal scenes

Total top 23 times (77%)
Total bottom 7 times (23%)
90.5% of his fuck scenes were bareback

4 known fisting scenes
13 known piss/watersports scenes
2 known BDSM scenes

Has Had Sex With 71 People:

Tyler Reed

,

Justin Dean

,

Derek Parker

,

Cole Streets

,

Arpad Miklos

,

Devin Draz

,

John Magnum

,

RJ Parker

,

Sage Daniels

,

Johnny Hunter

,

Nick Roberts

,

Ray Dalton

,

Kyle King

,

Hank Rivers

,

Tony Bishop

,

Shane Frost

,

Spencer Reed

,

Gabriel D'Alessandro

,

Chad Brock

,

Leo Forte

,

Tate Ryder

,

Brad Kalvo

,

Aaron Rivers

,

Blue Bailey

,

Jessie Colter

,

Kyle Braun

,

Mason Garet

,

Ken Byker

,

Darius Soli

,

Kyler Ash

,

Nick Andrews

,

Armond Rizzo

,

Dayton O'Connor

,

Trevor Knight

,

Preston Steel

,

Dylan Knight

,

Dylan Saunders

,

Devan Bryant

,

Leon Fox

,

Logan Stevens

,

Adam Champ

,

Brian Davilla

,

Rick Romo

,

Adam Russo

,

Lex Antoine

,

Gio Ryder

,

Christian Matthews

,

Dolf Dietrich

,

Cutler X

,

Lukas Cipriani

,

Cam Christou

,

David Lambert

,

Johnny Five

,

Trelino (Dick Wadd)

,

Seth Fisher

,

Parker (Dick Wadd)

,

Miles Andrew

,

Aarin Asker

,

Rocky Soukup

,

Bryan Knight

,

Dakota Wolfe

,

Hans Berlin

,

Chip Young

,

Luke Harrington

,

James Django

,

Hugh Hunter

,

Theo Styles

,

Lucas Cipriani

,

Cylus Kohen

,

Scorpion Tattoo

,

Poppers (Dick Wadd)



Bottoming Stats:
Topping Stats:

Has fucked 22 people:

Aarin Asker

,

Adam Russo

,

Blue Bailey

,

Christian Matthews

,

Dakota Wolfe

,

David Lambert

,

Devan Bryant

,

Dylan Knight

,

Dylan Saunders

,

Gio Ryder

,

Hank Rivers

,

Justin Dean

,

Kyler Ash

,

Leon Fox

,

Logan Stevens

,

Miles Andrew

,

Ray Dalton

,

Rick Romo

,

Rocky Soukup

,

Seth Fisher

,

Tate Ryder

,

Trelino (Dick Wadd)

He's barebacked 82% of the people he's fucked
Has been the dom in 1 BDSM video
Has been a piss top in 5 videos
Has been a fisting top in 1 video