Kryz XXX

Fan Page

This is the safe-for-work version of this page. If you want to see more, check out Kryz XXX's profile on #BBBH (NSFW).

Kryz XXX is a bareback total bottom who's done 167 porn scenes and had sex with 73 different people on video (that we know of).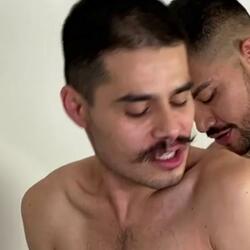 Stats/Details:
These stats are based on the data we have available to us. Our database is constantly growing, so in most cases these numbers are underestimates – the real numbers are higher.
Sites:

Raw Fuck Club

(166 scenes),

Black Breeders

(1 scene)
Scenes: 167

3 known anal scenes

Total bottom 3 times (100%)
100% of his fuck scenes were bareback

4 known piss/watersports scenes
1 known solo scene

Has Had Sex With 73 People:

Romeo Davis XL

,

Ethan Chase

,

Felipe Ferro

,

Viktor Rom

,

Jose Quevedo

,

Prince Ali

,

Drew Dixon

,

Antonio (Dark Alley)

,

XuxoBcn (RFC)

,

Zeno Rey

,

Maxence Angel

,

Marco Rush

,

Andrew SleazyPig

,

Giuspel (RFC)

,

Fetish Dom Berlin

,

Viciousmen (RFC)

,

Vinni06 (Dark Alley)

,

Seba Equis

,

Viking Muscle

,

Edgar Ruso

,

John Brachalli

,

Bony BabyRon

,

NachoDBille (Dark Alley)

,

TURKMXXX (Dark Alley)

,

Zonicman (Dark Alley)

,

Benji Vega

,

Chicodsconocido (Dark Alley)

,

Mystery Man

,

Hoodson (Dark Alley)

,

ElChivoXXX (Dark Alley)

,

Antonio Pix

,

Dominic Cain

,

Hot Martin

,

XISCO (Dark Alley)

,

Itsmefer7 (Dark Alley)

,

Charly Diaz

,

Pixxxie (Dark Alley)

,

Sugar Brown

,

Axeloon Bernal

,

Nerón (Dark Alley)

,

Esteban S

,

DannxX (Dark Alley)

,

Francisco Sanabria

,

Nikko Montero

,

Berlinloads (Dark Alley)

,

Damian Manoso

,

Nikko (Dark Alley)

,

Samir Morais

,

Juan Martin

,

KD Prince

,

LeonActXL (Dark Alley)

,

Throat Seeker

,

Hurricane Domi

,

theygotmoxy (Dark Alley)

,

Damian Vergon

,

Fer Blondeville

,

Alonso Rivero

,

Ed Torres

,

Rey de Chocolate

,

El Garo

,

MELAD PARIS

,

LATINRELAX (Dark Alley)

,

Juan Brasile

,

Leo Bacchus

,

James VIP

,

Brandon Ley

,

Blewvy (Dark Alley)

,

ben mfxxx

,

ooopsfranky (Dark Alley)

,

Miguel Olazaba

,

VINNI22 (Dark Alley)

,

PervTaurus (Dark Alley)

,

Alex Mora



Bottoming Stats: