Bobby Knight

Fan Page

This is the safe-for-work version of this page. If you want to see more, check out Bobby Knight's profile on #BBBH (NSFW).

Bobby Knight is a bareback versatile porn star who's done 113 porn scenes and had sex with 92 different people on video (that we know of).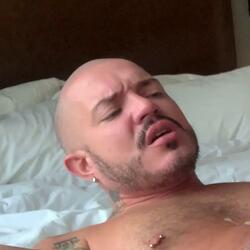 Stats/Details:
These stats are based on the data we have available to us. Our database is constantly growing, so in most cases these numbers are underestimates – the real numbers are higher.
Sites:

Raw Fuck Club

(83 scenes),

Black Breeders

(30 scenes)
Scenes: 113

46 known anal scenes

Total top 20 times (43%)
Total bottom 21 times (46%)
Versatile 5 times (11%)
100% of his fuck scenes were bareback

1 known fisting scene
1 known BDSM scene
3 known oral scenes

Has Had Sex With 92 People:

Micah Martinez

,

Teddy Forest

,

Archer Croft

,

Nathan Daniels

,

Bennett Anthony

,

Ray Diesel

,

Michael Roman

,

Ryan Powers

,

Jay Alexander

,

Anthony Grey

,

Alex Powers

,

Sebastian Velmont

,

Harlem Jock

,

Alex Tikas

,

August Alexander

,

Jake Lawrence

,

SFBayStudMonkey (RFC)

,

Santino Cruz

,

AJ Sloan

,

Aaron Chu

,

Latinman35 (RFC)

,

Zain Alexander

,

Hunter Nash

,

AfricanPrince26 (Black Breeders)

,

Danny Vice

,

Jordan Hunter

,

Viking Muscle

,

Nicholai Archer

,

Leo Kingfisher

,

Rhys Dylan

,

Jordan Jameson

,

Ethan Sinns

,

Ken Rydewell

,

BostonJock (Dark Alley)

,

Rob Montana

,

MagicMike Hung

,

Travis Jons

,

Luis Logan

,

Adrian Rose

,

Victor Lopez

,

Dijonay Jones

,

Kent Black

,

Alpha Top

,

M Hound

,

J Hound

,

Satyr Boy

,

Jay Rad

,

Brandor Peña

,

Troy Hardt

,

Kyle Wild

,

Jesse Ferrer

,

Paxton Payne

,

Justyn Cruz

,

Tampa Tom

,

The Tipsy Twink

,

Brock the Jock

,

ACELAPUPLEGEND (Dark Alley)

,

xxlaboixx (Dark Alley)

,

Joey Slade

,

Boston Otter

,

Dallas J Prescott

,

Jordi Massive

,

Blake Bennett

,

COMPACTMUSCLES (Dark Alley)

,

Jayden Woods

,

Jay Rams

,

Alt Zaddy

,

ROD MAGNUM

,

Serg Shepard

,

RendellX (Black Breeders)

,

Tony Genius

,

LATINRELAX (Dark Alley)

,

Atticus Cooper

,

Joey Parker

,

DirtyDAlt (Dark Alley)

,

Pup Kilo

,

GingerBeardTX (Dark Alley)

,

Dom Llamas

,

Johnny Castro

,

FLBlackPanther (Black Breeders)

,

Logan Bell

,

Donovan Diaz

,

Enrique Jimenez

,

Logan Aarons

,

King Cuba XL

,

Krayzee Kakes

,

MuscleBear (Dark Alley)

,

Clause Nomi Malone

,

Jimmy Rams

,

Angelo Rosa

,

NERDYADAM8 (Black Breeders)

,

Aiden Ambrose



Bottoming Stats:

Has been fucked by 23 guys:

AfricanPrince26 (Black Breeders)

,

Alex Tikas

,

Alpha Top

,

Alt Zaddy

,

August Alexander

,

Bennett Anthony

,

BostonJock (Dark Alley)

,

Dallas J Prescott

,

Harlem Jock

,

Jay Rad

,

Jordan Hunter

,

Jordan Jameson

,

Leo Kingfisher

,

Luis Logan

,

MagicMike Hung

,

Micah Martinez

,

Nicholai Archer

,

Ray Diesel

,

Rhys Dylan

,

Ryan Powers

,

Sebastian Velmont

,

Viking Muscle

,

xxlaboixx (Dark Alley)

He's been barebacked by 100% of the guys who've fucked him

Topping Stats:

Has fucked 21 people:

Aaron Chu

,

Alex Powers

,

Anthony Grey

,

August Alexander

,

Blake Bennett

,

BostonJock (Dark Alley)

,

Brandor Peña

,

Dijonay Jones

,

Jay Rad

,

Jesse Ferrer

,

Joey Slade

,

Justyn Cruz

,

Kyle Wild

,

Latinman35 (RFC)

,

Leo Kingfisher

,

Luis Logan

,

Michael Roman

,

Paxton Payne

,

Rhys Dylan

,

SFBayStudMonkey (RFC)

,

The Tipsy Twink

He's barebacked 100% of the people he's fucked