Viktor Rom

Fan Page

This is the safe-for-work version of this page. If you want to see more, check out Viktor Rom's profile on #BBBH (NSFW).

Also known as: Vyktor Rom

Viktor Rom is a bareback total top who's done 337 porn scenes and had sex with 224 different people on video (that we know of).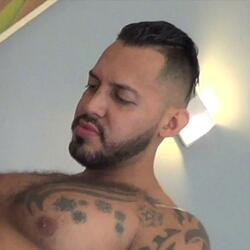 Stats/Details:
These stats are based on the data we have available to us. Our database is constantly growing, so in most cases these numbers are underestimates – the real numbers are higher.
Sites:

Raw Fuck Club

(327 scenes),

Dark Alley XT

(6 scenes),

Black Breeders

(2 scenes),

Eric Raw

(1 scene),

Drill My Hole

(1 scene)
Scenes: 337

33 known anal scenes

Total top 33 times (100%)
100% of his fuck scenes were bareback

20 known fisting scenes
1 known piss/watersports scene
4 known BDSM scenes

Has Had Sex With 224 People:

Martin Mazza

,

Max Adonis

,

Bastian Karim

,

Joe Gillis

,

Leo Grin

,

Romeo Davis XL

,

Ethan Chase

,

Lex Anders

,

Emir Boscatto

,

Ken Summers

,

Enzo Rimenez

,

Mike Gaite

,

Andrea Suarez

,

AmericanFF (RFC)

,

Xavi Garcia

,

Noel Santoro

,

Apolo Sanchez

,

Joe Casio

,

Danny Drexler

,

Matthias von Fistenberg

,

Max Duran

,

Damien Crosse

,

Rogue Status

,

Lucas Fox

,

Aymeric Deville

,

Gabriel Cross

,

Juan Perez

,

Jean Franko

,

Aaron Mark

,

Manu Perronash

,

Frank Valencia

,

Mario Domenech

,

John Rodriguez

,

Ciro (Dark Alley)

,

Xavi Duran

,

Klein Kerr

,

Allen King

,

Angel Cruz

,

Louis Ricaute

,

Manuel Olveyra

,

Nick Spears

,

Christian Duarte

,

Andy Star

,

Rico Fatale

,

Oscar Wood

,

Dani Robles

,

Richard (Eric Videos)

,

Koldo Goran

,

Gianni Maggio

,

Angel (Dark Alley)

,

Santi Noguera

,

Sergyo (Dark Alley)

,

Julian Torres (FFurryStud)

,

Marco Napoli

,

Drew Dixon

,

Dann Grey

,

Roc Vent

,

Jess Royans TheBarebacker

,

Pompili Dominus

,

Sultan Rhodos

,

Magic (RFC)

,

Helena Kramer

,

Bairon Hell

,

thebarebacker (RFC)

,

Aeioras (RFC)

,

XuxoBcn (RFC)

,

Darek Kraft

,

Viktor Rom and Darek Kraft

,

Kosmin (RFC)

,

Sir Peeter

,

Jordan Dawson

,

Arthas Berlin

,

Hugo Tara

,

CJ Bearded Brit

,

Danny Drexter

,

Nils (RFC)

,

Stuff Vargas

,

Leo SENTHY

,

Angel Frontera

,

Ruben Martínez

,

Alan Do Oro

,

Maxence Angel

,

Dimitri (RFC)

,

Jess Royan TheBarebacker

,

BamBam (RFC)

,

Marco Rush

,

Santi Connor

,

Luis Pollon

,

BonyBabyRon (RFC)

,

Axel MAX

,

David Lucas

,

Valdo (RFC)

,

Mars Gymburger

,

Muchoyo (RFC)

,

William Blanco

,

Kryz XXX

,

Sebaxxx (RFC)

,

Zeus Vargas

,

Engelberth J

,

Jonathan Stick

,

Javi Hard

,

Vikingo (RFC)

,

Vruto (RFC)

,

Giuspel79 (RFC)

,

Giuspel (RFC)

,

Thiago Boss

,

Oliver Hunt

,

David Luca

,

Jorge Sainz

,

Mister James

,

HandroBCN (RFC)

,

Hairy Sam

,

Scott Lovehot

,

Michael Lover

,

Lludy Fortune

,

Jorge Saint

,

Pol Prince

,

MIchel Lover

,

Koko Bcn

,

Rey Mesa

,

SusatoXXX (RFC)

,

Viciousmen (RFC)

,

Pornobalengo (RFC)

,

HairyCharlie (RFC)

,

Douglas Smith

,

Niko Demon

,

Jkab Ethan Dale

,

Ever Adan

,

HungValenciaX (RFC)

,

Marco Antonio

,

Koldo Goram

,

Sebastián 21x

,

Jonathan Miranda

,

Pierre Alexander

,

Susatobcn (Dark Alley)

,

Ken Summer

,

Leo Rayo

,

Ruslan Angelo

,

Slave Doggy

,

KokoBcn (Dark Alley)

,

Haso Wisky

,

Vikingo BCN

,

Jorge LR

,

Lex Toro

,

Kike Gil

,

Ghislain (Dark Alley)

,

David Pool

,

Breeze (Dark Alley)

,

Delan Benobe

,

David My Burn

,

Sebastián Baena

,

Engelbert (Dark Alley)

,

Vik Thor

,

Susato BCN

,

Oliver Marino

,

Max Wide

,

Fran Biancci

,

Leo Rosso

,

John Brachalli

,

Joel Win

,

Jess Dome

,

Handro Bcn

,

Nikko Demon

,

Bony BabyRon

,

Lawrence London

,

Teddy Tedesma

,

FFhunkvers (Dark Alley)

,

Mario XXX

,

Freddy Salvador

,

Ricky Hard

,

Thomas Ysaka

,

TURKMXXX (Dark Alley)

,

Ronald Tryp

,

Victor D Angelo

,

Dany Boss

,

Michele Lover

,

Jabita (Dark Alley)

,

Gitano XXL

,

Jota Palma

,

Boni Babyron

,

Roxas Gay XXX

,

Gitano Silva

,

Oskar GM

,

Baz Índigo

,

Leo Galileo

,

Mino B

,

Giovanni Vergara

,

Agujero Perverso

,

Mystery Man

,

Valentino Sisto

,

Dark Phoniex

,

Joaquin Santana

,

Banana Cubana

,

Hard Koky

,

Juan Lucho

,

Antonio Pix

,

Jorge Ferrara

,

Alexi Atlante

,

XISCO (Dark Alley)

,

Itsmefer7 (Dark Alley)

,

Charly Diaz

,

Pixxxie (Dark Alley)

,

Arandelas (Dark Alley)

,

Tono (Dark Alley)

,

Arturo (Dark Alley)

,

Dan (Dark Alley)

,

Galaxy Boy 18

,

Ángel Private

,

Arron LAUTNER

,

Angelito Crush

,

NICHOLAS BARDEM

,

Richard Rodriguez

,

Valdo Smith

,

Valentino Sistor

,

Dylan Ferrasa

,

Sam Men

,

Benjamin (Dark Alley)

,

Joven Calloguay

,

Salvatore Expósito

,

Jonas Brauw

,

Ricky Herrera

,

Rudalo (Dark Alley)

,

Tayler Roma

,

Roc Barcelona



Bottoming Stats:

Has been the sub in 1 BDSM video

Topping Stats:

Has fucked 26 people:

Allen King

,

Breeze (Dark Alley)

,

Ciro (Dark Alley)

,

CJ Bearded Brit

,

Dani Robles

,

David My Burn

,

David Pool

,

Ever Adan

,

Ghislain (Dark Alley)

,

Giuspel (RFC)

,

Jess Royans TheBarebacker

,

Joe Gillis

,

Jordan Dawson

,

Jorge LR

,

Ken Summer

,

KokoBcn (Dark Alley)

,

Leo Grin

,

Leo Rayo

,

Louis Ricaute

,

Marco Rush

,

Martin Mazza

,

Max Duran

,

Pierre Alexander

,

Sultan Rhodos

,

Victor D Angelo

,

Vikingo BCN

He's barebacked 92% of the people he's fucked
Has been the dom in 2 BDSM videos
Has been a fisting top in 1 video