Sean Harding

Fan Page

This is the safe-for-work version of this page. If you want to see more, check out Sean Harding's profile on #BBBH (NSFW).

Sean Harding is a bareback total bottom who's done 105 porn scenes and had sex with 82 different people on video (that we know of).
Twitter Handle: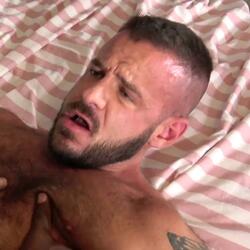 Stats/Details:
These stats are based on the data we have available to us. Our database is constantly growing, so in most cases these numbers are underestimates – the real numbers are higher.
Sites:

Raw Fuck Club

(6 scenes),

Black Breeders

(3 scenes),

Raw Fuck Club

(1 scene)
Scenes: 105

15 known anal scenes

Total bottom 15 times (100%)
100% of his fuck scenes were bareback

Has Had Sex With 82 People:

Tyler Reed

,

Zack Slater

,

Calvin Collins

,

JD Daniels

,

AJ Marshall

,

Jack Winters

,

Justin Bold

,

Bishop Angus

,

Matt Muck

,

Joe Gillis

,

Leo Grin

,

Teddy Forest

,

Rick Kelson

,

Jackson Hood

,

Brock Banks

,

Cain Marko

,

Krave (RFC)

,

Tyler Saint

,

Vic Rocco

,

Nick Capra

,

Ray Dalton

,

Saxon West

,

Jake Mitchell

,

Leo Forte

,

Brian Bonds

,

Drew Sebastian

,

Boomer Banks

,

Rogue Status

,

Adam Russo

,

Owen Powers

,

Scotty Rage

,

Chandler Scott

,

Jon Galt

,

Steve Sommers

,

Scott DeMarco

,

Ray Diesel

,

Luke Harrington

,

Ryan Powers

,

Jay Alexander

,

Jace Chambers

,

Jack Andy

,

Mason Lear

,

Atlas Grant

,

Jack Dixon

,

Jack Macenroth

,

Aiden Hart

,

Max Konnor

,

Riley Mitchel

,

Sebastian Velmont

,

Timmarie Baker

,

Wade Wolfgar

,

Parker Payne

,

Bentley Michael

,

Jaxx Thanatos

,

Cesar Rossi

,

Ace Banner

,

Samson (Dark Alley)

,

Silver Steele

,

Jacob Conar

,

Sherman Maus

,

Aaron Trainer

,

Avatar Akyia

,

Marco Napoli

,

Harlem Jock

,

Bastian Grey

,

Bruce Hammer

,

Alex Tikas

,

Brad Hunt

,

Sharok (Dark Alley)

,

Daryl Richter

,

Derek Allen

,

Liam Knox

,

Jake Nicola

,

Simon Green

,

Chris Damned

,

Rocky Maximo

,

Matthew Figata

,

Cole Connor

,

Lobo (Dark Alley)

,

Ian Holms

,

Arturo Santos

,

Maxx Jenkins



Bottoming Stats:

Has been fucked by 13 guys:

Aaron Trainer

,

Boomer Banks

,

Brock Banks

,

Harlem Jock

,

Jackson Hood

,

Jaxx Thanatos

,

Jay Alexander

,

Krave (RFC)

,

Leo Forte

,

Lobo (Dark Alley)

,

Matt Muck

,

Maxx Jenkins

,

Teddy Forest

He's been barebacked by 100% of the guys who've fucked him