Jose Quevedo

Fan Page

This is the safe-for-work version of this page. If you want to see more, check out Jose Quevedo's profile on #BBBH (NSFW).

Jose Quevedo is a bareback versatile top who's done 226 porn scenes and had sex with 152 different people on video (that we know of).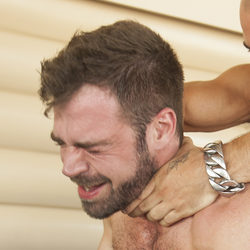 Stats/Details:
These stats are based on the data we have available to us. Our database is constantly growing, so in most cases these numbers are underestimates – the real numbers are higher.
Sites:

Raw Fuck Club

(225 scenes),

Dark Alley XT

(1 scene)
Scenes: 226

23 known anal scenes

Total top 17 times (74%)
Total bottom 3 times (13%)
Versatile 3 times (13%)
100% of his fuck scenes were bareback

2 known BDSM scenes
2 known oral scenes

Has Had Sex With 152 People:

Reese Rideout

,

Aitor Crash

,

Bastian Karim

,

Leo Grin

,

Scott Carter

,

Noel Santoro

,

Antonio Aguilera

,

Logan Stevens

,

Gabriel Cross

,

Felipe Ferro

,

John Rodriguez

,

Logan Moore

,

Louis Ricaute

,

Andy Star

,

Julian Torres (FFurryStud)

,

Marco Napoli

,

Meaty Henri

,

XuxoBcn (RFC)

,

Dickie James

,

CJ Bearded Brit

,

Porfi Maximus

,

Roman Capellini

,

Nickoles Alexander

,

Austin Sugar

,

Marco Rush

,

Mars Gymburger

,

Kryz XXX

,

Zeus Vargas

,

Vruto (RFC)

,

Giuspel (RFC)

,

Cole Connor

,

Douglas Smith

,

Ruslan Angelo

,

Yoshi Kawasaki

,

Saul SensualMassage

,

Kike Gil

,

Brett Tyler

,

Chad (Dark Alley)

,

Heracles (Dark Alley)

,

John Brachalli

,

Hotmale Hairy

,

Freddy Salvador

,

Ricky Hard

,

Ridick (Dark Alley)

,

Joaquin Santana

,

Hard Koky

,

Alexi Atlante

,

Arandelas (Dark Alley)

,

NICHOLAS BARDEM

,

That Switch

,

Valdo Smith

,

Andre Cruise

,

Little Brako

,

Roxas (Dark Alley)

,

Tony Snow

,

Kyle Fox

,

Phil James

,

Diego Sphynx

,

Nerón (Dark Alley)

,

javi titoh

,

DScumdump (Dark Alley)

,

Igor lucios

,

Daddy Dan

,

Scott Wilde

,

thebottompetit (Dark Alley)

,

Alex Cavill

,

Rob Montana

,

Will Kox

,

Wolf Rayet

,

Dimitri Venum

,

Vikko Vigo

,

Francisco Ranniero

,

Alton Red

,

Blessed Boy

,

Aiden Tyler

,

SmellyKinkster (Dark Alley)

,

Inkedbrln (Dark Alley)

,

Valentin Amour

,

Jericob (Dark Alley)

,

The Paris Bear

,

Alessio Veneziano

,

BBOYCUMXXX (Dark Alley)

,

Oskar Ivan

,

Rick Chase

,

Amir Fuxxx

,

Guido Stahl

,

MAX FENDEZ

,

Hadrian Capusty

,

Andres Jornet

,

Favio Sador

,

LUCCIO (Dark Alley)

,

Serg Shepard

,

LUUISITOO3 (Dark Alley)

,

Fer Blondeville

,

Fabrizio Santamaria

,

Bear Faceless

,

Ixma Wild

,

CARVALDAD (Dark Alley)

,

OKRGM90 (Dark Alley)

,

Alan Vicenzo

,

JUSTINJETTXXX (Dark Alley)

,

Thiago Da Silva

,

Dereek Madrid

,

PASSMAD99 (Dark Alley)

,

MIGUE PASTRANO

,

IXXXMAA (Dark Alley)

,

Jeff Garden

,

Fernando (Dark Alley)

,

Minsito (Dark Alley)

,

PJ Knox

,

MELAD PARIS

,

Joey Parker

,

YANXX (Dark Alley)

,

Jason Luna

,

Jose Hartman

,

Andres Ivanoff

,

Jeff Barbe Noire

,

Zac Solan

,

TEXPAT (Dark Alley)

,

Jhonramirex (Dark Alley)

,

Tyler Rex

,

Lucas Murphy

,

Mars Barcelona

,

Angel Diaz

,

Mr Donatello

,

Connor Wolfe

,

MINIPOUSS (Dark Alley)

,

Mirko (Dark Alley)

,

Ares Madrid

,

Matt Asen

,

Cesar (Dark Alley)

,

Holes4FFucks (Dark Alley)

,

EMELLOXXX (Dark Alley)

,

VIKTOR85 (Dark Alley)

,

CHRISYTHATWALK (Dark Alley)

,

Vik30m (Dark Alley)

,

IAMARES814 (Dark Alley)

,

TWOINTHETOWN (Dark Alley)

,

Davide (Dark Alley)

,

Rubber Go

,

Hairy Hunk

,

LuponeroXL (Dark Alley)

,

Luissamy (Dark Alley)

,

ludiclouche (Dark Alley)

,

LondonLingamMassage (Dark Alley)

,

puffylipspig (Dark Alley)

,

CLOAKEDMAN (Dark Alley)

,

MUSCLEGUMMY (Dark Alley)

,

babe asaurusrex

,

Brad Hole

,

CLARK84 (Dark Alley)

,

RayCW (Dark Alley)



Bottoming Stats:
Topping Stats:

Has fucked 16 people:

Alessio Veneziano

,

Amir Fuxxx

,

Andre Cruise

,

Andres Ivanoff

,

DScumdump (Dark Alley)

,

Felipe Ferro

,

Guido Stahl

,

Jericob (Dark Alley)

,

Jose Hartman

,

Nickoles Alexander

,

Ricky Hard

,

Rob Montana

,

That Switch

,

Thiago Da Silva

,

YANXX (Dark Alley)

,

Yoshi Kawasaki

He's barebacked 100% of the people he's fucked
Has been the dom in 1 BDSM video