Jess Royan TheBarebacker

Fan Page

This is the safe-for-work version of this page. If you want to see more, check out Jess Royan TheBarebacker's profile on #BBBH (NSFW).

Jess Royan TheBarebacker is a bareback versatile porn star who's done 83 porn scenes and had sex with 65 different people on video (that we know of).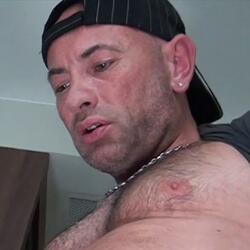 Stats/Details:
These stats are based on the data we have available to us. Our database is constantly growing, so in most cases these numbers are underestimates – the real numbers are higher.
Sites:

Raw Fuck Club

(81 scenes),

Black Breeders

(3 scenes)
Scenes: 83

17 known anal scenes

Total top 7 times (41%)
Total bottom 10 times (59%)
100% of his fuck scenes were bareback

1 known fisting scene
1 known piss/watersports scene

Has Had Sex With 65 People:

Lex Anders

,

Apolo Sanchez

,

Max Duro

,

Damien Crosse

,

Aymeric Deville

,

Viktor Rom

,

Tiago Grante

,

AJ Alexander

,

Oscar Wood

,

Malik XXL

,

Alejandro Torres

,

Flo Carrera

,

Koldo Goran

,

Gianni Maggio

,

John Strap

,

Jordan Dawson

,

Romantik (RFC)

,

Leo Rex

,

Leon XXL

,

Leo SENTHY

,

Patrick Dei

,

Flo Vega

,

Dimitri (RFC)

,

Jafar (RFC)

,

Fred BDX

,

David Valentin

,

Luis Pollon

,

michael ducan

,

Axel MAX

,

Santi (RFC)

,

Killian (RFC)

,

Koby Lewis

,

Dylan Lopez

,

Ludo Fire

,

Zeus Vargas

,

Thomas Nord

,

Johny Vega

,

Leon TEAL

,

Jonathan Stick

,

STIVES (RFC)

,

Tayor (RFC)

,

Aaron Master

,

Juan Jo

,

Pablo Hierro

,

Bastian (RFC)

,

Jorge Leal

,

Julian Toretto

,

Danny Wolf

,

Kevin Ass

,

Tahar (RFC)

,

Matt Nimois

,

Jimy Lebreton

,

Miroslaw (Dark Alley)

,

Thiago (Dark Alley)

,

Randy Junior

,

Josh Mezza

,

Timmy Hardins

,

Brett Dillon

,

Skingboy (Dark Alley)

,

TOF (Dark Alley)

,

Mauricio Wild

,

Jake Care

,

Pierre Wolf

,

MuscleTattoo (Dark Alley)

,

Roms Actif



Bottoming Stats:
Topping Stats: