Jake Cruise

Fan Page

This is the safe-for-work version of this page. If you want to see more, check out Jake Cruise's profile on Spunk Bud (NSFW).

Jake Cruise is an American versatile porn star who's done 324 porn scenes and had sex with 180 different people on video (that we know of).
Twitter Handle: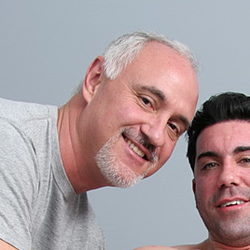 Stats/Details:
These stats are based on the data we have available to us. Our database is constantly growing, so in most cases these numbers are underestimates – the real numbers are higher.
Sites:

Jake Cruise

(323 scenes),

Jake Cruise

(1 scene)
Scenes: 324

61 known anal scenes

Total top 16 times (26%)
Total bottom 30 times (49%)
Versatile 15 times (25%)
84.6% of his fuck scenes were bareback

1 known BDSM scene
75 known oral scenes

Has Had Sex With 180 People:

David Taylor

,

James Biehn

,

Joshua Ballman

,

Jude Collin

,

Michael Von Steel

,

Mike Roberts

,

Pat Bateman

,

Warren Wood

,

Zack Cook

,

Zeb Atlas

,

Leo Giamani

,

Damian Skyes

,

Carlo Cox

,

Jake Wolfe

,

Shawn Hunter

,

Jeremy Bilding

,

Tristan Baldwin

,

Mario Yanko

,

Joe Thunder

,

Criss Strokes

,

Scott Johnson

,

Seth Sweet

,

Marcus Blue

,

Jonny Magnum

,

Vinnie D'Angelo

,

Rusty Stevens

,

Dane Stewart

,

Jaxton Wheeler

,

Dustin Tyler

,

Guy Holiday

,

Rex Roddick

,

Will Parks

,

Trent Atkins

,

Parker D

,

Duke Lewis

,

Derek Parker

,

Zane Reynolds

,

Jesse Dalton

,

Tyler Saint

,

Nick Moretti

,

Lance Bennett

,

Brenden Cage

,

Bo Dean

,

Zohan Lopez

,

Topher DiMaggio

,

Cole Streets

,

Arpad Miklos

,

JB Downs

,

Mike West

,

Devin Draz

,

Blake Simmons

,

John Magnum

,

Brent Bixcayne

,

Kurt Wild

,

Tex Gemell

,

Tex Gemmell

,

Drew Cutler

,

Max Blake

,

Kay Tatsahiko

,

Kyler Wes

,

Scott Campbell

,

Steven Richards

,

Tyler Ford

,

Ennio Guardi

,

Brady Jensen

,

Robert Axel

,

Vance Crawford

,

Shane Frost

,

Spencer Reed

,

Jake Steel

,

Jake Andrews

,

Nick Ford

,

Mitch Vaughn

,

Shane Wright

,

Brad Kalvo

,

Rick McCOy

,

Kris Jamieson

,

Aaron Rivers

,

Brian Banks

,

Spencer Fox

,

Dylan Now

,

Mario Romo

,

Parker London

,

Tyler Sweet

,

Gavin Waters

,

Fabio Stallone

,

Jimmy Coxxx

,

Leo Domenico

,

Kyler Ash

,

Travis Irons

,

Liam Troy

,

Lucas Knight

,

Beau Flexxx

,

Guy Jones

,

AJ Irons

,

Dakota Rivers

,

David Dakota

,

Berke Banks

,

Samuel O'Toole

,

Eli Hunter

,

Kevin Lane

,

Tyler Andrews

,

Zach Alexander

,

Riley Owens

,

Jeremy Hunt

,

Franky West

,

Wolfie Blue

,

Hunter Vance

,

Marcus Isaacs

,

Jeremy Stevens

,

JR Bronson

,

Mike Anders

,

Doug Acre

,

Blade Woods

,

Chase Young

,

Gabriel Louis

,

Scotty Dean

,

Mike Rivers

,

Matt Heritage

,

Tyler Hunt

,

Sam O'Toole

,

Shane Bricker

,

Nick Toretto

,

Matt Hardy

,

Blake Sevilla

,

Cody Cruz

,

Kristian Matthews

,

Jack Palace

,

Graham Moore

,

Paul Jerrod

,

Calix Milan

,

Kyle Reese

,

Aden Graham

,

Josh Gatlin

,

Damian Sykes

,

Andrew Stone

,

Rick Phoenix

,

Jessy Ares

,

Chance Logan

,

Tony Capucci

,

Marcus Ruhl

,

Jacob Durham

,

Thomas Ride

,

Jeremy Spreadums

,

Unknown Soldier (Jake Cruise Media)

,

Dexter (Jake Cruise Media)

,

Anthony (Jake Cruise Media)

,

Alex Stantin

,

Angelo Antonio

,

Brad (Jake Cruise Media)

,

Ali (Jake Cruise Media)

,

Frederico (Jake Cruise Media)

,

Timarrie Baker

,

Tex Davidson

,

Vinnie Stefano

,

Joe Thomas

,

Burt Marten

,

Trevor (Jake Cruise Media)

,

Mystery Date

,

Justin Riddick

,

Patrick Boz

,

Brec Boyd

,

Mike Martinez

,

Jon Sylvanwood

,

Travis Rider

,

Joey Soto

,

Rudolph Schneider

,

Jackson Klein

,

Rudolf Schneider

,

Dirk Willis

,

Jessippi Cappozzolli

,

Christian Kennedy

,

Kevin Case

,

Noah Greene

,

Angelo (Jake Cruise Media)

,

Trevor Parks

,

Trent Jacobs

,

Mike Fox

,

David Plaza

,

Josh Hunter



Bottoming Stats:

Has been fucked by 43 guys:

Aaron Rivers

,

AJ Irons

,

Ali (Jake Cruise Media)

,

Bo Dean

,

Brad (Jake Cruise Media)

,

Brenden Cage

,

Brent Bixcayne

,

Damian Skyes

,

David Taylor

,

Drew Cutler

,

Duke Lewis

,

Eli Hunter

,

Franky West

,

Frederico (Jake Cruise Media)

,

Jake Wolfe

,

JB Downs

,

Jesse Dalton

,

Joshua Ballman

,

Kurt Wild

,

Kyle Reese

,

Lance Bennett

,

Marcus Blue

,

Mike Roberts

,

Mystery Date

,

Nick Moretti

,

Pat Bateman

,

Paul Jerrod

,

Riley Owens

,

Rudolf Schneider

,

Seth Sweet

,

Shawn Hunter

,

Steven Richards

,

Tex Gemell

,

Tony Capucci

,

Tristan Baldwin

,

Tyler Andrews

,

Tyler Saint

,

Unknown Soldier (Jake Cruise Media)

,

Vance Crawford

,

Vinnie D'Angelo

,

Zach Alexander

,

Zack Cook

,

Zane Reynolds

He's been barebacked by 63% of the guys who've fucked him

Topping Stats:

Has fucked 30 people:

Aaron Rivers

,

AJ Irons

,

Blade Woods

,

Blake Simmons

,

Brenden Cage

,

Damian Skyes

,

Devin Draz

,

Eli Hunter

,

Franky West

,

Frederico (Jake Cruise Media)

,

Jake Wolfe

,

JB Downs

,

Jesse Dalton

,

Josh Gatlin

,

Jude Collin

,

Kevin Lane

,

Kurt Wild

,

Kyle Reese

,

Kyler Wes

,

Mario Yanko

,

Mike Rivers

,

Mike Roberts

,

Mitch Vaughn

,

Scott Campbell

,

Shane Frost

,

Shane Wright

,

Steven Richards

,

Tristan Baldwin

,

Tyler Saint

,

Vance Crawford

He's barebacked 60% of the people he's fucked