Flex Deon Blake

Fan Page

This is the safe-for-work version of this page. If you want to see more, check out Flex Deon Blake's profile on Spunk Bud (NSFW).

Also known as: Flex-Deon Blake, Flex Deon

Flex Deon Blake is a total top who's done 26 porn scenes and had sex with 62 different people on video (that we know of).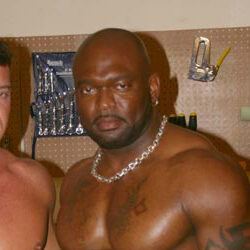 Stats/Details:
These stats are based on the data we have available to us. Our database is constantly growing, so in most cases these numbers are underestimates – the real numbers are higher.
Sites:

Raw & Rough

(11 scenes),

Dark Thunder

(6 scenes),

Hot Barebacking

(4 scenes),

Thug Orgy

(3 scenes),

Black Breeders

(2 scenes)
Scenes: 26

6 known anal scenes

Total top 6 times (100%)
85.7% of his fuck scenes were bareback

1 known fisting scene
2 known piss/watersports scenes

Has Had Sex With 62 People:

Joey Milano

,

Bo Knight

,

Adonis Steele

,

Infinity (Dark Thunder)

,

Brian Le

,

Jasper Colins

,

Kamrun

,

Joe Romero

,

Erik Scott

,

Austin Shadow

,

Vic Stone

,

Nick Roberts

,

Eric Scott

,

Bud Hole

,

Alan Gregory

,

Chris Anderson

,

Leon Masters

,

Brian Peters

,

Chris Neal

,

Jed Pisston

,

Ken Byker

,

Kirk Nadir

,

JC Carter

,

Bobby Blake

,

Chane Adams

,

Chris Blake

,

Dallas Chalmers

,

Eric Top Stud

,

Pete Porter

,

Bad Boy

,

Damian Diaz

,

Eric long

,

Mitch Ray

,

Christian Volt

,

Ricky Parker

,

Winston Love

,

Soloman Gregory

,

Scorpio

,

Brad Collins

,

Jeff Collins

,

Joey O'Bryan

,

Big (Dick Wadd)

,

Scorpio (Dick Wadd)

,

Crystal Blake

,

Squirt Peters

,

Jeff Palmer

,

Jack Surf

,

Eric Hunter

,

Dave Stone

,

Ricky Vasquez

,

Reese Coleman

,

Manchester Marriot

,

Richard Bangs

,

Gino Gultier

,

Ridge Jones

,

Sebastian Smalls

,

Carlos Morales

,

Dallas Chalmer

,

Bud (rawTOP.tv)

,

Mikhail (rawTOP.tv)

,

Aaron (Dick Wadd)

,

Mark (Thug Orgy)



Topping Stats: