Devan Meji

Fan Page

This is the safe-for-work version of this page. If you want to see more, check out Devan Meji's profile on #BBBH (NSFW).

Devan Meji is a bareback total bottom who's done 28 porn scenes and had sex with 42 different people on video (that we know of).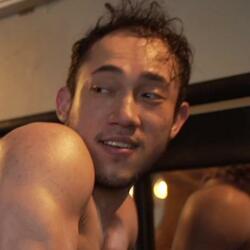 Stats/Details:
These stats are based on the data we have available to us. Our database is constantly growing, so in most cases these numbers are underestimates – the real numbers are higher.
Sites:

Black Breeders

(17 scenes),

Raw Fuck Club

(11 scenes)
Scenes: 28

5 known anal scenes

Total bottom 5 times (100%)
100% of his fuck scenes were bareback

Has Had Sex With 42 People:

Jason Derek

,

Atlas Grant

,

Jake O'Connor

,

Anthony Grey

,

Alex Powers

,

Sebastian Velmont

,

Julian Torres (FFurryStud)

,

Harlem Jock

,

Alex Tikas

,

Ryan Spade

,

Minotaur (RFC)

,

Marquis Khan

,

SexyRetroKing (RFC)

,

NeedTag (RFC)

,

therealking31 (Black Breeders)

,

The One

,

Kyng Kos

,

DigMeDigU (Black Breeders)

,

Jason Ryder

,

C0zz1 (Dark Alley)

,

Abel Rey

,

Jordan Hunter

,

Brooklyn Bear

,

Mick Weston

,

Boquete (Black Breeders)

,

Gunnar Gates

,

Blaise (Dark Alley)

,

Shai Wilder

,

Gunner Gates

,

Ethan Havoc

,

Jaggar Bearclaw

,

nycgay3 (Black Breeders)

,

Samson Dumont

,

JaggarBearClaw (Black Breeders)

,

Taco EverX

,

DickIdol (Black Breeders)

,

HeightsHoundsXX (Black Breeders)

,

Max Phoenix

,

Travis Jons

,

Cain Hvnter

,

Not anothertaco

,

TJ Harriss



Bottoming Stats: