Brett Tyler

Fan Page

This is the safe-for-work version of this page. If you want to see more, check out Brett Tyler's profile on #BBBH (NSFW).

Brett Tyler is a bareback versatile porn star who's done 272 porn scenes and had sex with 137 different people on video (that we know of). He is HIV negative and on PrEP (last we knew).
Twitter Handle: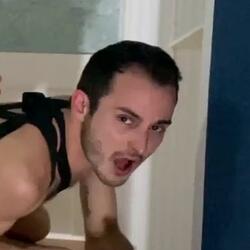 Stats/Details:
These stats are based on the data we have available to us. Our database is constantly growing, so in most cases these numbers are underestimates – the real numbers are higher.
Sites:

Raw Fuck Club

(265 scenes),

Black Breeders

(7 scenes)
Scenes: 272

14 known anal scenes

Total top 3 times (21%)
Total bottom 9 times (64%)
Versatile 2 times (14%)
100% of his fuck scenes were bareback

35 known fisting scenes
8 known piss/watersports scenes
2 known BDSM scenes
1 known oral scene

Has Had Sex With 137 People:

Jake Ryder

,

Ashley Ryder

,

Freddy Miller

,

Felipe Ferro

,

Viktor Rom

,

Ray Diesel

,

Pablo Bravo

,

Jose Quevedo

,

Christian Hunter

,

Koldo Goran

,

Teddy Torres

,

Jack Lewis

,

Yeison XX

,

Deepthroatxxxxl (RFC)

,

Darek Kraft

,

CJ Bearded Brit

,

Maxence Angel

,

Malorie Likes

,

Sergio Wilde

,

Bob Steel

,

Marco Rush

,

Ugo Mason

,

Julian Blesh

,

Tim Blesh

,

Koby Lewis

,

Zeus Vargas

,

Andrew SleazyPig

,

Portus (RFC)

,

Aaron Master

,

Philipp Wants

,

Axel Blaise

,

Fetish Dom Berlin

,

Douglas Smith

,

Pierre Alexander

,

Tj Tantra

,

Pete Masters

,

Portus Alpha

,

Jaylen (Black Breeders)

,

Marc McAulay

,

bighandsff (Dark Alley)

,

Blackminier1 (Black Breeders)

,

Brody Mac

,

Sissy Stan

,

Dean Lee

,

Arabicadonis (Dark Alley)

,

Leo Bulgari

,

Robybot1 (Dark Alley)

,

XISCO (Dark Alley)

,

Manchester Guy

,

Jorge (Dark Alley)

,

Brighton Guy

,

T6X87 (Dark Alley)

,

Hedon Parker

,

JasonMFetishXXX (Dark Alley)

,

Fitlad (Black Breeders)

,

Raw Is Law

,

Liam Branagh

,

Dark Hermes

,

Nerón (Dark Alley)

,

Roby Bottom

,

Mario FF

,

DScumdump (Dark Alley)

,

Geoffrey Silva

,

Jamie Coxx

,

Gertje (Dark Alley)

,

Dmitry Preysler

,

M06jean (Dark Alley)

,

nando rey

,

Alex Cavill

,

Jimwellcumer (Dark Alley)

,

hornymcrboy (Dark Alley)

,

Mikey Lee

,

Mikeyboy UK

,

Rawislawmanc (Dark Alley)

,

Charlie Grey

,

Tom Wright XXX

,

Pepe Yakuna

,

THOMAS SEX

,

Will Kox

,

Berlinloads (Dark Alley)

,

Nemtys (Dark Alley)

,

Kinkster (Dark Alley)

,

Jake Rockard

,

Will Cox

,

xlldntop (Dark Alley)

,

AfroBlackXXX (Black Breeders)

,

HorneyLad (Dark Alley)

,

Pierre Rubberax

,

Gloryhole SW

,

Marc Ash

,

SmellyKinkster (Dark Alley)

,

Inkedbrln (Dark Alley)

,

Angel privvt

,

Eddy edftmxxx

,

Roberta Cortes

,

Amir Fuxxx

,

FFDomR (Dark Alley)

,

politeboylondon (Dark Alley)

,

Dymond Fire

,

JASONDOMINOXXX (Dark Alley)

,

Fer Blondeville

,

Max Dom

,

ALAN VERSXXX

,

Pol Sanyu

,

Georgi Mitev

,

Fabio Godi

,

The Free DivTop

,

Fabio Goudi

,

Matt Soumi

,

stallion spice

,

Hung Valencia

,

Cooper Nash

,

Jose Hartman

,

Kal Henry XXX

,

Andres Ivanoff

,

Luca Zavat

,

Jason Fetish

,

fuckartberlin (Dark Alley)

,

PIGDOGABUS (Dark Alley)

,

Lucas Murphy

,

Leon Chevalier

,

Ade Hamilton

,

Angel Diaz

,

Zackary Gold

,

Bear Trucker77

,

Carlos Verga

,

LUCIFERXL (Dark Alley)

,

Danny Baldwin

,

nudistguysp (Dark Alley)

,

CHRISYTHATWALK (Dark Alley)

,

Cagedpussyboy (Dark Alley)

,

Hot Sexy Monkeys

,

Alastair Noir

,

Mathieu de Lyon

,

DutchVers (Dark Alley)

,

SNAUWFLAKE (Dark Alley)

,

XXXTJTANTRA (Dark Alley)



Bottoming Stats:
Topping Stats: