Bentley Race

Fan Page

This is the safe-for-work version of this page. If you want to see more, check out Bentley Race's profile on Spunk Bud (NSFW).

Bentley Race is an Australian total top who's done 37 porn scenes and had sex with 35 different people on video (that we know of).
Twitter Handle: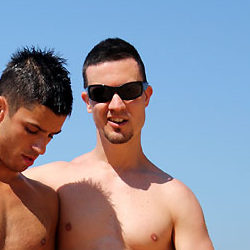 Stats/Details:
These stats are based on the data we have available to us. Our database is constantly growing, so in most cases these numbers are underestimates – the real numbers are higher.
Sites:

Bentley Race

(37 scenes)
Scenes: 37

11 known anal scenes

Total top 11 times (100%)
0% of his fuck scenes were bareback

1 known piss/watersports scene
2 known BDSM scenes
15 known oral scenes
3 known solo scenes

Has Had Sex With 35 People:

Duke Michaels

,

Josh Harris

,

Orlando Toro

,

Nils Jacobson

,

Kaleb Storm

,

Lucas King

,

Christian Lewis

,

Derek Reynolds

,

Scott Campbell

,

Clint Harrlord

,

Scott Ryan

,

Robbie Price

,

Eligh Rainer

,

Aden Sandler

,

Alexander Morales

,

Mikele Romano

,

Jan Peters

,

Chris Wyld

,

William Tudor

,

Tommy DeLuca

,

John Pavel

,

Mitch Perry

,

Flynn Evans

,

Cristopher Garcia

,

Mitch Milano

,

Shaun Michael

,

Lex Macy

,

Jay Townsend

,

Cooper Leigh

,

Zane Hunter

,

Rodo Garcia

,

Dylan Summers

,

Rocco Milano

,

Jay (Bentley Race)

,

Dylan (Bentley Race)



Bottoming Stats:

Has been a piss bottom in 1 video

Topping Stats: