Chris Neal

Fan Page

This is the safe-for-work version of this page. If you want to see more, check out Chris Neal's profile on #BBBH (NSFW).

Chris Neal is a bareback versatile porn star who's done 23 porn scenes and had sex with 67 different people on video (that we know of).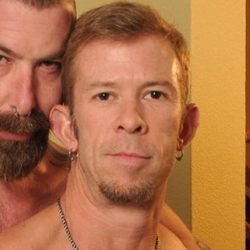 Stats/Details:
These stats are based on the data we have available to us. Our database is constantly growing, so in most cases these numbers are underestimates – the real numbers are higher.
Sites:

Hot Barebacking

(13 scenes),

Raw & Rough

(9 scenes),

Bareback That Hole

(1 scene)
Scenes: 23

2 known anal scenes

Total bottom 1 time (50%)
Versatile 1 time (50%)
100% of his fuck scenes were bareback

2 known fisting scenes
5 known piss/watersports scenes
1 known BDSM scene

Has Had Sex With 67 People:

Rod Rockhard

,

Tony Serrano

,

Drew Peters

,

Thomas Steel

,

Patrick Ives

,

David Griffin

,

Thomas Steele

,

Juan (S/X Video)

,

Manchester (S/X Video)

,

Tony O'Mally

,

Clyde (S/X Video)

,

Justin (S/X Video)

,

Brian Le

,

Jasper Colins

,

Kamrun

,

Dominik Rider

,

Jake Wetmore

,

Austin Shadow

,

Vic Stone

,

Lobo Al

,

Jason Reed

,

Nick Roberts

,

Marco Cruise

,

Zack Blunt

,

Zach Blunt

,

Jason Tyler

,

Dakota Phillips

,

Jarod Steel

,

Colin Steele

,

Ross Scott

,

Remy Marchand

,

Duke Rivers

,

Jacob Scott

,

Randy Dew

,

Ruben D'Angelo

,

Flex Deon Blake

,

Jed Pisston

,

Alex Pitt

,

Kirk Nadir

,

Max Corey

,

Ross X

,

Frank Young

,

Aidyn Michael

,

Scorpio

,

Nick Horn

,

Raunchy Randy

,

Abel Thrall

,

Dean Cooper

,

Joe Sarge

,

Richie (Dick Wadd)

,

Cuba (Dick Wadd)

,

Scorpio (Dick Wadd)

,

Erik (S/X Video)

,

Jasper Collins

,

Antonio Vela

,

Jeff Palmer

,

Gregory Marx

,

Larry Tanner

,

Ricky Vasquez

,

Reese Coleman

,

Manchester Marriot

,

Richard Bangs

,

Gino Gultier

,

Carlos Morales

,

The Peacocks

,

Steve "Titpig" Hurley

,

Dawson (rawTOP.tv)



Bottoming Stats:
Topping Stats:

Has fucked 1 person:

Jake Wetmore

He's barebacked 100% of the people he's fucked
Has been a piss top in 1 video